Back
China's innovation revolution – Israel's opportunity
Israel and China cooperate in trade, tourism and research, but the great potential that lies in the relations between the two countries, has not been realized yet. The profound change process that China is undergoing, from a manufacturing superpower to an innovation superpower, is a valuable opportunity for Israeli hi-tech companies
The chapter was written by the International Collaboration division of the Israel Innovation Authority.
China is perceived by most of us as the world's production center, but we do not usually think of it as an innovation superpower. We are accustomed to think more about "Made in China," but much less about "Designed in China" or "Invented in China." These perceptions were correct in the past, but in light of the changes that have occurred in China in recent years, it seems that it has great potential to become an important player in the global innovation ecosystem.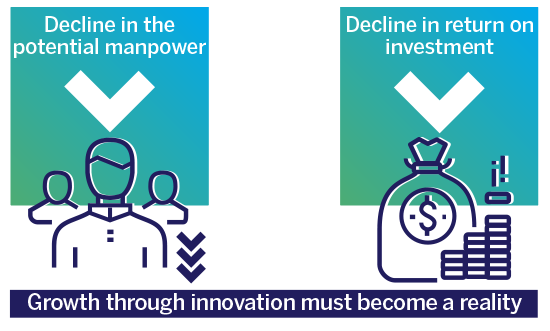 This argument was expressed in the recently published Mckinsey Global Institute report, claiming that in a few years China could transform from an economy that absorbs knowledge and technology into a global innovation leader. In fact, the report claims that in order to maintain current growth rates, China has no choice but to rely more and more on innovation, because the two main growth engines of China's economy – a constant stream of new employees and huge investments in all sectors of the economy – are gradually, but obviously weakening. China's labor force is expected to peak in the coming years and then, due to the aging of the population and one-child policy, is expected to begin declining. In addition, the investments in China are beginning to show a decline in return after three decades of massive investing. When the contribution of employees and investments is eroding, the only remaining source of growth is improving labor productivity through the adoption and development of new knowledge and technologies.
No one understands this better than the Chinese leadership itself. President of China, Xi Jinping, said in an interview in December 2014 that: "China must rely on innovation to achieve continuous and healthy economic development.[1]" This approach is also reflected in the government's Five-Year Plans – plans officially outlining the ruling party's government priorities for five consecutive years. The 12th Five-Year Plan, which recently ended[2], stressed the need to persevere in internal growth, further open the Chinese economy, and to accelerate the country's technological progress in industries of strategic importance, including: advanced manufacturing of electronics, transportation equipment, cloud computing, IoT, bio-technology and pharmaceuticals, food safety technologies, energy efficiency and more. The 13th Five-Year Plan, which includes the government outline until 2020 and is the first to be published during the tenure of President Xi Jinping, according to earlier publications will emphasize the continued opening of China to global markets, the pursuit of innovation and economic growth while preserving the environment, and striving to reduce social gaps, so larger segments of the population can benefit from the continuous development and progress.
In a planned economy such as China's, 5-Year Plans are not just chatter: they are supported by massive investment of resources. Indeed, in recent years China has been greatly reinforcing its innovative capabilities, as evidenced by the data regarding their investment in R&D as a percentage of GDP, as well as the investment in research and in human capital;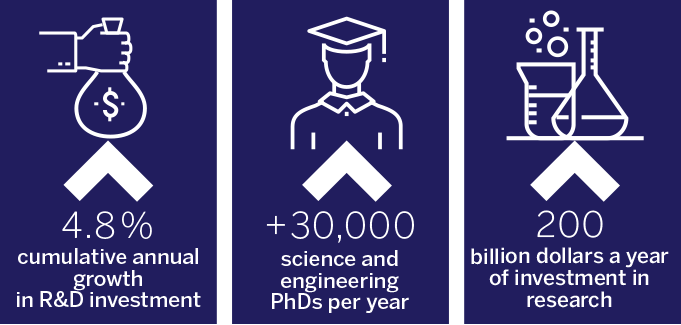 Israel-China relations – just scraping the tip of the iceberg

Examination of Israel-China relations over the years indicates the strengthening of bilateral relations between the two countries, as a result of the strengthening of diplomatic ties between Jerusalem and Beijing. In early 2016, Israel even hosted the second meeting of the Innovation Committee, led by Prime Minister Benjamin Netanyahu and Vice Premier of the People's Republic of China, Liu Yandong. The meeting facilitated the signing of 13 bilateral agreements for cooperation in various fields, and announced the opening of talks regarding the establishment of a free trade agreement between Israel and China. However, a closer examination shows that despite the general improvement trend, it is still just the tip of the iceberg with respect to the potential of the commercial relationship with this huge country:

Trade – in 1992, diplomatic relations were established between Israel and China, and in the following decade Israel has gained a deeper appreciation of China's important role in global trade, and of the vast potential of the trade relations between the two countries. Therefore, beginning in 2004, China was defined by the Ministry of Economy as a "target country" for promoting Israeli exports. This policy has yielded good results and the overall trade volume between Israel and China increased from only USD 50 million in 1992 to over USD 10 billion in 2015. This year, China was ranked the third largest export destination of Israel, and the first destination in Asia. The increase in the trade volume with China is impressive, but slow. Therefore, Israel has begun to examine the possibility of establishing a free trade area agreement between Israel and China, aimed at reducing the barriers to bilateral trade, and increasing Israeli exports to China.
Tourism – in 2012, the Israeli Tourism Ministry made a strategic decision to focus on China and attract Chinese tourists to Israel. Since this decision, there has been a consistent increase of 15% to 30% annually in the number of Chinese tourists arriving in Israel; up to 33,000 tourists in 2014. This is an impressive figure, but it is negligible in relation to the potential of over 100 million Chinese tourists annually.
Academia – the cooperation between universities from Israel and China has been strengthening, and it includes opening of dedicated programs in English for Chinese students and senior managers, and launching of new exchange programs for senior researchers. In addition, Israel provides dozens of scholarships for Chinese doctoral students studying in Israel. Also, the Technion Institute of Technology received an unprecedented huge contribution from the Chinese billionaire Sir Li Ka-shing in the amount of USD 130 million to establish the Technion Guangdong Institute of Technology (TGIT) in China, which will allow its graduates to get a degree from the Technion. In addition, in early 2015 Tel Aviv University and Beijing's Tsinghua University established XIN, a new joint research center, aiming to combine the academic knowledge of both universities, and connect it with China's world of commerce.
The big opportunity: business and technological cooperation
We believe that the emergence of China as an innovation superpower has great potential for the Israeli innovation ecosystem. In our opinion, the most significant growth potential lies in business cooperation, particularly with technology companies. Why does an extraordinary opportunity lie specifically here? China is a huge country that is strategically operating to empower its position as an economic leader. It pursues innovation and aims to be a leading player in the global world. Its huge foreign exchange reserves (including government owned companies), estimated at USD 4 trillion, are driving it to look for attractive investments around the world. However, China shows special interest in Israel, which placed itself in a leading position in global innovation, and excels in knowledge creation.
Chinese interest in Israel relies on historical and cultural affinity between the two ancient civilizations. Chinese nation is proud to have a rich culture of more than 4,000 years, and so the Chinese appreciate the Jewish people, the "People of the Book," who also have a rich history of thousands of years, where education and learning have always been a guiding light. However, first and foremost, Chinese attention is based on a remarkably pragmatic interest: achieving economic growth, prosperity and power for China, promoting international cooperation and opening up to a more competitive economy, in accordance with the objectives of the national Five-Year Plan.
Israel, which became known as the "Startup Nation" in China as well, presents a fertile ground for the advancement of Chinese innovation capabilities. Several large Chinese companies (such as XIAOMI and HUAWEI) have already opened development centers in Israel; others are scanning the country in the search for high technologies that will be "the next thing," to strengthen China and situate it as an innovation generator. High-level government delegations, representatives of large companies and individual investors from China often come to Israel in an attempt to crack the "Israeli code," understand the local ecosystem, and integrate the entrepreneurial and innovative character traits into the Chinese DNA.
There is also an increase in Chinese investments: in 2015 Chinese investors invested in Israeli venture capital funds and took part in direct investments, the total amount of which reached half a billion dollars. Since 2012, more than 30 entities from China and Hong Kong (SAR) have invested in Israel, and the number of investors from China is growing at an impressive annual rate, partly thanks to the regulatory relief applied to outbound investment from China. At the same time, there have also been a number of mergers and acquisitions of technology companies by Chinese investors. A prime example is the acquisition of Lumenis by the XIO Group for half a billion dollars.
Go east! Government assistance for technology companies in the Chinese market
In recent years, despite the great cultural distance, Israeli companies have made a significant shift in their world view. Many of them, who were accustomed to operating solely in the West, now have their eye on the East and are looking for opportunities to expand their activities in the Chinese market. However, in order to penetrate this huge market companies must deal with many new difficulties and obstacles, some of which relate to the need for financing in order to adapt the existing products to the Chinese market or to establish operations in China. Other obstacles relate to the need for support and guidance of the companies following the expiration of the joint development period, as well as the need for marketing assistance and maintenance of the relationship with a local partner. Yet another obstacle is their need for legal and regulatory assistance in navigating Chinese regulations on intellectual property and specific content areas.
The Israel Innovation Authority (formerly Office of Chief Scientist) is a major partner in the development of relations in the fields of technology between Israel and China. The Israel Innovation Authority, alongside other partners in the government, such as Foreign Trade Administration, Investment Promotion Center and others, operates and develops a variety of specialized tools to address the challenges the companies are facing. In 2009, the Office of Chief Scientist negotiated an array of bilateral agreements with China covering industrial R&D cooperation. These agreements have been expanded over the years, the strategy being that a larger set of agreements will provide Israeli companies with the widest framework possible for their activities with China. Today, this framework consists of nine industrial R&D cooperation agreements with the Chinese Ministry of Science and Technology (MOST), and with the following cities and provinces: Jiangsu, Shandong, Guangdong, Zhejiang, Shanghai, Sichuan and Shenzhen. These bilateral agreements also include an industrial R&D cooperation agreement with Hong Kong (SAR), which has much importance in view of being a gateway to trade with other countries in South-East Asia, and of course with China. The balance between the federal umbrella and the activities focused on selected provinces is essential for realizing the economic and technological potential of Israeli industry in these provinces, as well as for leveraging the R&D support capabilities of local governments.
Since the establishment of the agreements and programs with China, about 230 joint projects have been submitted by Israeli and Chinese companies. More than half (143) were jointly approved, and about 84 joint projects, with total R&D cost standing at over USD 50 million, are already underway or have been completed. During these years of activity one project on average was approved and jointly funded every month. Total government investment in these projects is over USD 20 million.
Industrial R&D cooperation with China is a tool that addresses the difficulties Israeli companies are facing when wanting to expand their operations in the Chinese market, through assistance in the risk diversification inherent in the project, as well as in shortening of the time needed for R&D, and shortening of the time needed for the development products to reach target markets. In addition, the China Desk in the International Collaboration division of the Israel Innovation Authority helps Israeli companies in locating Chinese partners for projects, finds and provides them with information about projects and technology initiatives in China, and works to set up meetings between Israeli and Chinese companies on technological issues of mutual interest, as part of trade missions arriving from China, and annual Israeli RoadShow events in China, which enjoyed impressive results. These activities are essential for making personal introductions between potential partners from both countries, in order to facilitate their initial business dialogues.
The Israel Innovation Authority is now promoting three new tools:

This unique track supports the development required for adaptation of innovative technological products for different target markets, including the Chinese market. The adaptation may include functional changes, language adjustments, adjustment to match local standards, and even adaptation related to unique cultural aspects of the country of destination. Active since 2013.

The China-Israel Innovation Park Initiative (CIP) will help hi-tech companies overcome the difficulties in setting up of a physical branch in China, which is vital to penetrate the Chinese market. The Park will assist Israeli technology companies with a "soft landing" and easy penetration into the Chinese market via operational measures. The Park will function under the Sino-Israeli government guidance, and will provide the companies with the following: spaces for offices, manufacturing and laboratories; unique grants; assistance in maintaining intellectual property, recruiting local manpower and logistics management; professional assistance and cultural mediation. Launched in March 2016

An online collaboration platform for innovation that will coordinate information, provide services and allow the creation of a direct connection between Israeli and Chinese companies and government officials. The platform will enable high-quality business matching between companies, investors and other entities in Israel and China. Among other services, the Center will provide assistance to many Israeli companies in protecting and enforcing their intellectual property rights, and will serve as a direct channel for the communication with the Chinese State Intellectual Property Office (SIPO) and the Israel Patent Authority. Launch: end of 2016
The next step: leveraging shared interests
China's tremendous efforts to consolidate its position as an innovation superpower and as an economic and political leader in the international arena, as well as the national challenges that lie before it in continuing economic growth – create a variety of opportunities for Israel, and make China an important target country for Israeli industry. In addition, the growing interest of China in Israel can be leveraged for strategic benefits in other spheres.
In light of the Five-Year Plan and the expected liberalization of the Chinese market, in terms of currency exchange, capital market and investment outside of China, 2016 holds a variety of opportunities for Israeli companies in many technological fields, starting with improving air and water quality, food safety, as well as cooperation in the fields IoT, Big Data and mobile communication. China's economic strength and its future growth channels, require all Israeli companies, seeking opportunities in global markets, to make an internal strategic review in order to decide if and how to operate in China. The Israel Innovation Authority and other government agencies are available to companies that make a positive decision and are planning to break into the Chinese market.
---
[2] The 12th Five-Year Plan (2011-2015), the 13th Five-Year Plan (2016-2020) will be published during 2016.